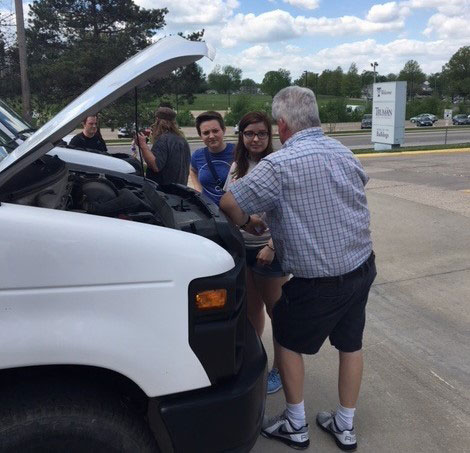 Policies & Procedures for Scheduling and Use of University Vehicles
Department of Public Safety
Truman State University
Kirksville, Missouri 63501
Phone: (660) 785- 7400
FAX: (660) 785-7482
Download Policies/Procedures for Scheduling & Use of University Vehicles (PDF)
Vehicle Request Form  Reimbursement Form (PDF)  Travel Itinerary Form  Protocol for Trips with University Drivers
Fleet Vehicle Cleaning Procedures & policy during COVID-19:
During this time, if there are three (3) or more occupants in a Truman vehicle, a face covering must be worn.  As a general rule, vehicle occupancy will be limited to ½ of the vehicles maximum capacity.
Fleet vehicles will thoroughly be sprayed with an effective disinfectant against COVID-19. High touch surfaces will be given special attention before a fleet vehicle can be used again.
During cleaning, staff  will wear appropriate PPE to protect themselves and prevent virus spread. This includes wearing face coverings and gloves that are changed after each vehicle.
Only one staff member will clean each vehicle to provide social distancing for our staff.
In Fleet/Parking Services office, surfaces are frequently cleaned. Vehicle keys and other materials will be disinfected before providing for customer use.
Fleet Services staff will frequently wash hands and use hand sanitizer or gloves before interacting with customers.
A transparent shield has been installed at the customer service desk.  
Staff are required to wear a face covering when interacting with customers if not behind the shield.
---
A variety of fleet vehicles are maintained to assist University administrators, faculty and staff in meeting transportation needs.  University vehicles may be used only for official University business and must be scheduled in advance:  The scheduling of drivers and vehicles is coordinated by Public Safety.  Requests may be submitted by online form or by calling 785-7400 between the hours of 7:30 a.m.-4:30 p.m., Monday-Friday.  Types of vehicles available for use include vans, minivans, cars and two minibuses.
The Public Safety Office is open 7:30 a.m. to 10 p.m. (closed University Holidays and weekends during Summer Sessions) of each day. Keys to fleet vehicles are checked out and returned to the Public Safety Receptionist.
We ask your cooperation in enforcing this policy and in helping the Department of Public Safety work out any problems, which may arise in connection with the policy.
Individuals who plan to drive full-size (8-passenger) van must attend a van-driver training course sponsored by Public Safety.  These vehicles are to transport persons not cargo.  Please DO NOT remove the seats from the vehicle.  Individuals driving mini-vans are also encouraged to call Public Safety to attend the van-driver training course.  The training course involves viewing a video prepared by the National Safety Council and a special segment from 60 Minutes plus a driving course.  Classes are typically scheduled the first few weeks of semester and as required subject to the availability of the van-driver trainers.